It can be a pain to scroll through hundreds of old emails just to find the one you need, which is why you might want to try searching for it instead. For example, if you're looking for a message that contains the word shopping, simply type shopping in the search field and click the search button. Your results will be displayed with your search terms highlighted in yellow within the message.

If you're having trouble finding the result you want, you can refine your query by clicking the small arrow in the search box, and entering your criteria in the appropriate fields (or use our advanced operators).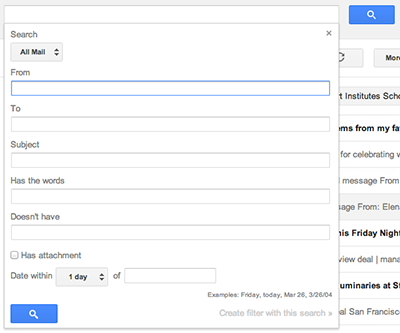 Gmail doesn't recognize special search characters like square brackets, parentheses, currency symbols, the ampersand, the pound sign, and asterisks. Gmail will also search within attachments where possible, so your search may return items without the search terms in the message text.
Search autocomplete
To help you search faster, Gmail suggests search terms as you begin to type. These search terms are based on data from Gmail, such as messages, contacts, labels, or past searches.
See a demo of some of these features below.