Announcements
The sign-in page for all Google Apps customers has been updated to be consistent across all Google Apps services. In other words, the sign-in page for Gmail will now be identical to the sign-in page for Google Calendar, Google Drive, or any other Google Apps service. This change will improve security and make it easier for users to switch between accounts. This means a few things for your organization:
The Google Apps sign-in page can no longer be personalized with colors and custom logos. It will now look the same across all Google sign-in pages.
Users will have to log in with their full email address (example: joe@company.com)
More and more, we're using our phones and tablets to discover great web content from all over the world. Today, a few new features in Chrome for Mobile make it easier for you to find and consume this content on the go.
Data compression for Android and iOS
In the U.S. alone, more than a fifth of adult smartphone users now do most of their online browsing on their mobile device.
1
Around the world, we're seeing a similar trend towards more mobile browsing. That's why we'll be rolling out a new feature on Chrome for Mobile to help you reduce data usage and save money on your mobile plan. When enabled, Chrome's 
data compression and bandwidth management
 can reduce data usage by up to 50% while browsing the web on Chrome for Android and iOS. This feature also enables Chrome's 
Safe Browsing
technology which helps protect you from malicious webpages.
To start saving data and turn on an even more secure browsing experience, visit "Settings" > "Bandwidth management" > "Reduce data usage." Then simply turn the toggle to "On." From this menu, you'll also be able to track how much bandwidth you save each month as you browse on Chrome.
Everyone likes free stuff, which is why starting today we're making Quickoffice available for free, for everyone. With Quickoffice, you can edit Microsoft® Office documents across your devices, giving you the freedom to work with anyone no matter what hardware or software they're using. Quickoffice also integrates seamlessly with 
Google Drive
 storage so you can safely access your files from anywhere. And while the easiest thing to do is simply convert your old files to Google Docs, Sheets and Slides, Quickoffice gives you another way to work with people who haven't 
gone Google
 yet.
You can get the new, free Quickoffice app for Android and iOS phones and tablets on 
Google Play
 and in the 
App Store
. Simply sign in with your Google Account to start editing Microsoft Office documents, spreadsheets and presentations on mobile. You'll also notice a number of new features, including a refreshed icon, the ability to create .ZIP folders, and view charts in Excel® and PowerPoint® files. Plus, the new app works across devices so you don't have to worry about installing separate versions anymore when you go from using your phone to editing on your tablet. 
While we're on the topic of free stuff, if you sign in to your Google Account from the new Quickoffice app for Android or iOS by September 26, 2013, an extra 10GB of Google Drive storage will be added to your account for two years (look for it in the next few weeks). So don't let your hardware or software differences get in the way of true collaboration -- download the new app and start working together today. 
Note
: 
Previous versions of Quickoffice have been removed from Google Play and the App Store. Learn moreabout how this affects customers currently using Quickoffice Pro, Quickoffice Pro HD. Users who have the Quickoffice for Google Apps for Business app will receive an update notification to upgrade to this new version. 
From classroom pop quizzes to RSVPs for your family reunion, you can use Google Forms in tons of different ways -- which is why it's important to be able to customize each form to fit your needs. Starting today, you'll be able to take advantage of four new features to create your perfect form: progress bars, data validation, embedded YouTube videos, and custom messages. 
Guide respondents through your survey with a progress bar 
Sometimes it's helpful to give respondents a sense of how much of a survey still needs to be completed, and now you can by turning on a progress bar in your form.
Get results the way you want them with data validation
Let's say you're using Forms to collect sign ups for an email newsletter. With data validation, you can now ensure that the email addresses are formatted correctly, and consequently avoid those unpleasant bounce-back messages. 
To get started, create a new Text question in Forms, then click on the Data validation tab. Click the checkbox and select "Text," then "Email address," and voila, the survey taker will see an error message if they don't enter an email address.
more
.
Embed YouTube videos
You can now embed a YouTube video right inside a form -- perfect if you want to get feedback or ask questions about a video.   
This works really well for quizzes in class, especially if paired with data validation and the progress bar. Embed a video and then use data validation to give hints when students enter incorrect answers, and add a progress bar so they know how far along they are in the quiz. 
Add a custom message to closed forms 
Sometimes when a form is closed, you still want to make information available for respondents who weren't able to complete it in time.
We get a lot of different types of email: messages from friends, teachers and students, social notifications, deals and offers, confirmations and receipts, and more. All of these emails can compete for our attention and make it harder to focus on the things we need to get done. Sometimes it feels like our inboxes are controlling us, rather than the other way around. 
But it doesn't have to be that way. Today, Gmail is getting a brand new inbox on desktop and mobile that puts you back in control using simple, easy organization.
On the desktop, the new inbox groups your mail into categories which appear as different tabs. You simply choose which categories you want and voilà! Your inbox is organized in a way that lets you see what's new at a glance and decide which emails you want to read when. 
You can easily customize the new inbox - select the tabs you want from all five to none, drag-and-drop to move messages between tabs, set certain senders to always appear in a particular tab and star messages so that they also appear in the Primary tab.
In the 
Gmail for Android 4.0
+ and 
Gmail for iPhone and iPad
 apps, you'll see your Primary mail when you open the app and you can easily navigate to the other tabs.
If the new inbox isn't quite your style, you can simply switch off all optional tabs to go back to classic view, or switch to any of your 
other favorite inbox types
. 
The new inbox is rolling out gradually. The desktop, Android and iOS versions will become available within the next few weeks. If you'd like to try out the new inbox on Desktop sooner, keep an eye on the gear menu and select 
Configure inbox
 when it appears in the Settings options.
The process of creating and accessing your stuff shouldn't be, well...a process. Today, the 
Drive app for Android
 is getting several improvements to make creating and accessing your stuff on-the-go even easier.
To help you find the content you care about, Drive files will now be displayed in a clean, simple card-style. You can swipe between files to see large previews that let you quickly review and discover the information you're looking for. And if you want to keep some Drive files on your Android device, you'll now be able to "download a copy" from the actions menu inside settings.
The updated Drive for Android app also gives you to a way to keep track of important paper documents like receipts, letters, and billing statements. Simply click "Scan" from the Add New menu, snap a photo of your document, and Drive will turn the document into a PDF that's stored for safekeeping. And because Drive can recognize text in scanned documents using 
Optical Character Recognition
 (OCR) technology, a simple search will retrieve the scanned document later. No more frantic scrambling through drawers looking for a receipt or digging through your pockets to find that business card -- just scan, upload and search in Drive.
The 
editing experience
 in Google Sheets has also gotten some improvements: now you can adjust font types and sizes for a spreadsheet and tweak the cell text colors and cell alignment right from the app. Plus, the Drive app comes with Cloud Print support so you can print anything from Drive with a 
Cloud Ready printer 
-- perfect if you need to, say, print that extra resume right before a job interview.
Get the Google Drive app today on 
Google Play
.
Life gets a bit easier when your Google Apps products work well together -- whether that's 
inserting a Drive file into an email
 or sharing Docs and photos 
from Drive on Google+
. As that experience becomes seamless, having separate storage 
doesn't
 make as much sense anymore. So over the coming weeks, you'll get 30 GB of unified storage to use as you like between Drive and Gmail. Just as before, files created in Docs, Sheets and Slides don't count against your storage quota. Storage will also be shared with photos you upload to Google+ larger than 2048px. 
With this new combined storage, you can use your storage how you need to. As a result of today's storage change, Gmail inboxes for Google Apps for Education customers are no longer limited to 25 GB -- any additional storage you purchase can be shared and used by Gmail. Or alternatively, if you're only using a few gigabytes of email storage, but have a lot of large documents and files stored in Google Drive, you can now use your storage primarily for Drive. 
Google will also be making updates to the 
Google Drive storage page
, so you can better understand how you're using your storage. Simply hover over the pie chart to see a breakdown of your storage use across Google Drive, Gmail, and Google+ Photos.
This update will roll out to our Cedarburg.k12.wi.us domain over the coming weeks.
It can be a pain to scroll through hundreds of old emails just to find the one you need, which is why you might want to try searching for it instead. For example, if you're looking for a message that contains the word shopping, simply type shopping in the search field and click the search button. Your results will be displayed with your search terms highlighted in yellow within the message.

If you're having trouble finding the result you want, you can refine your query by clicking the small arrow in the search box, and entering your criteria in the appropriate fields (or use our advanced operators).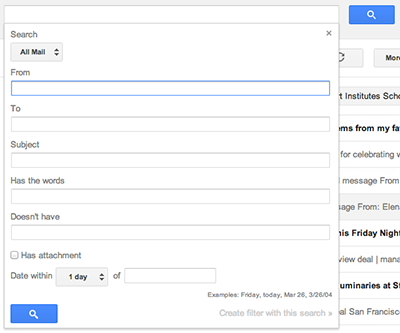 Gmail doesn't recognize special search characters like square brackets, parentheses, currency symbols, the ampersand, the pound sign, and asterisks. Gmail will also search within attachments where possible, so your search may return items without the search terms in the message text.
Search autocomplete
To help you search faster, Gmail suggests search terms as you begin to type. These search terms are based on data from Gmail, such as messages, contacts, labels, or past searches.
See a demo of some of these features below.
With Google Drive, you can do more than just create, store, and share stuff. A variety of apps can help with 
everything
from 
editing spreadsheets
 to 
signing documents electronically
.
Forms
 let you easily create questionnaires and automatically collect responses in a spreadsheet. Today a new version launches, rebuilt to bring you a faster, cleaner, and more collaborative experience. 
Now with collaboration 
Create a form faster than ever. Just as with 
Docs, Sheets and Slides
, you can now collaborate with others in real-time. If you need to work with two colleagues on a survey, all three of you can work on the same form simultaneously and even have a group chat on the side, without leaving the form.